LEAVES OF FIRE mass market paperback cover reveal.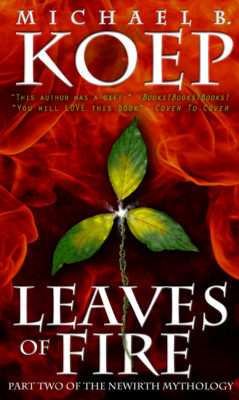 Will Dreamly Arts is pleased to present the forthcoming mass market paperback cover to Part Two of the Newirth Mythology: LEAVES OF FIRE by Michael B. Koep. The title is available for PREORDER now. It will release in the United States on July 23rd, 2017.
Reviewers agree: a wholly original, imaginative, and  remarkably inventive approach to the thriller genre. Intricately woven, this poetic page turner that will leave you haunted and wowed. Destined to be a classic.
"I hope Mr. Koep donates his brain to science when the time arises because he definitely has something that a lot of us don't." -Goodreads
"The level of creativity in these two novels is, out of everything I've ever read, second only to Stephen King's Dark Tower series." -Netgalley Reviews
"You will LOVE this book." -Roger Nichols, Cover to Cover Book Beat
"Trust me, you will want to get in on the ground floor of this series because people are going to be talking about it." -Reader's Favorite Reviews
"A spiral into madness.  This author has a gift!" – Books! Books! Books!
Michael B. Koep is the author of the Newirth Mythology Trilogy. He is a father, a musician, a painter, swordsman, and getting better at baking bread. He lives in Idaho.
AVAILABLE WHERE BOOKS ARE SOLD JULY 23, 2017